Private Bush dinner/ – $60 USD per person
For logistical reasons we must book accommodation located inside the Tarangire National Park/ Serengeti National Park and additional accommodation costs apply.
Sundowner  $60 USD per person
Experience a spectacular sunset while enjoying sundowner refreshments (gin&tonic/local beers/housewine/ soft drinks) and snacks under a melting amber sunset in our memorable locations.
Bush lunch in Serengeti – $45 USD per person
Enjoy a delightful meal in one of the many incredible areas on the Serengeti plains while viewing the extraordinary landscape and abundant game. Experience bush dining at its best with an awe-inspiring surrounding to highlight your Safari journey
Scenic  tour -$417 per person (small craft)
It's a 1 hour flight from Arusha Airport taking off at 06:45am, heading east soaring above Arusha city,Arusha National Park,West Kilimanjaro,Shira Plateau,Glaciers, Reusch Crater Mawenzi Peak and returnigh via Mt.Meru landing at 07:45 am
Kilimanjaro scenic flight by a helicopter– $2700 for 1 hour
From the helicopter birds eye view, you will see the gems of the mighty Kilimanjaro that cannot be seen when climbing it or from pictures. Flights are best in the morning or evening when the mountain is clear from clouds. The cruise helicopter tours begin from Moshi Airport,a small airport in Moshi Town, the closest town to Mount Kilimanjaro
Champagne Bush Breakfast –  $80 USD per person
Our breakfast location is on the banks of river . Our Camp Chef will prepare a wide variety of breakfast specials surrounded by the untouched African wilderness and natural flora and fauna. For logistical reasons we must book accommodation located inside the Tarangire National Park/ Serengeti National Park and additional accommodation costs apply
Mto wa mbu Zipline  $65 USD per person
This 2 -3 hours scenic zip adventure transfers you through Maasai land. The Zipline Adventure Park is nestled at the base of great rift valley wall, offering stunning views of the surrounding lakes, wetlands, Maasai steppe and the rift valley
Night Game Drive in Tarangire  – $182 per person
Night in Tarangire is another world altogether. Witness the landscape waxed in a silver moonlight as giant elephants make their way into and out of the shadows and be sure to keep an eye out for eyes shining back at you from the spotlight. Please Note: this tour is not suitable for children under the age of 12.
Hot Air Balloon Flight and Champagne Breakfast in the Serengeti  – $547 per person:
 Enjoy a hot air balloon flight in the world-famous Serengeti; launch at dawn and rise as the sun rises before gently floating over the plains for around 1 hour. Upon your graceful return to the ground you will feast on a champagne breakfast under an acacia tree before beginning your full day game drive.  Please Note: this activity is not suitable for children under the age of 8.
Honeymoon Package – $30 USD per person
Welcome Amenity – Champagne bottle in room on arrival / Roses decoration/Fruit basket –
Tarangire Walking Safari – $60  per person: You will be led by a professional walking guide along the Tarangire River for about 2 hours walk. It is a good way to experience the sounds of the bush and provide some exercise and give a different perspective to that gained in the vehicle. Here a wealth of information can be gleaned from the smallest of tracks, including which animals have passed by recently, and whether they could still be in the area. You should expect to encounter zebra, waterbuck, impala, ostrich, elephant as well as a number of birds. The natural setting of the bush gives a thrilling aspect to the sightings, much more than a usual vehicle safari. Please Note: this tour is not suitable for children under the age of 12. –
Ngorongoro walking safari – $60 per person: It is absolutely breath taking, but also a great way to appreciate the size and diversity of the Ngorongoro Crater. Please Note: this tour is not suitable for children under the age of 12. –
Olduvai Gorge – $36 per person: Visit Olduvai Gorge which is one of the most important paleoanthropological sites in the world for early human evolution. The site is significant in showing the increasing developmental and social complexities in the earliest humans. Here you will enjoy free time to discover the museum before continuing to the Serengeti.
Night Game Drive in Lake Manyara National Park  – $182 per person: Experience a whole new world of nocturnal animals inside Lake Manyara National Park as you drive into the thick ground-water forest and continue towards the lake following the Simba River to the hippo pools. This safari will give you an entirely different perspective of the park and wildlife. Please Note: this tour is not suitable for children under the age of 12.
Treetop Walkway in Lake Manyara – $47 per person: Walk among the treetops in Lake Manyara and experience untouched nature and wildlife from a unique perspective on Tanzania's first treetop walkway, and at 370 meters, it is also one of Africa's longest. It is an experience you'll never forget. Duration: approx. 1 hour.
Cycling Tour and Mama Lunch in Manyara – $75 per person: Cycle through MtowaMbu Village where you will experience local life and enjoy the sights and sounds of this vibrant town before riding to a Mama's house where you will feast on a traditional Tanzanian meal. Please note: this is a half day tour which runs in conjunction with a half day game drive in Lake Manyara National Park.
Mount Kilimanjaro Day Excursion  – price upon request                                            
Marangu Gate 1,860m
Today you will be collected from your lodge after breakfast and drive to Marangu then on to the Kilimanjaro National Park gate. Drive 2 hours to the Marangu Gate, you'll be captivated by the countryside – coffee and banana plantations, through picturesque Marangu village, with Kilimanjaro rising majestically ahead of you, from here you will have amazing view of the mountain because is quit high and you will also visit the Marangu Kilimanjaro climbing gate where people start to climb from there
On a clear day, Kibo will glimmer in the distance, showing off her majestic glaciers in the morning sun. Once you are done taking the pictures and enjoying the views you will walk to the waterfall. The walk itself is extremely interesting, as you will see some smaller waterfalls and lots of waterways which are part of the irrigation system of the local farmers who grow coffee, bananas and many other fruits and vegetables.
At the waterfall, you can even refresh in the cool and crystal clear water – don't forget to bring your swimwear! Here you will also break for lunch before doing a short tour of village to see the typical life of the Chagga tribe, visit old chagga caves, Local school, insight local coffee productions and the visitors can make their own cup of coffee in local way from the beginning ie, roasting the coffee beans, grinding them and make their own cup of coffee, as well local beer testing known as "mbege"
Mount Kilimanjaro Marangu Route – Day Hike – price upon request                                            
Marangu Gate 1,860m – Mandara hut (2,715m)
After breakfast you will depart Arusha and drive to Moshi, then on to the Kilimanjaro National Park gate. The journey passes through the village of Marangu, which is located on the lower slopes of the mountain. Once you reach the park gate, all hikers are requested to sign in at the Park office and make their final preparations for the climb.
You now leave the park gate and ascend on a cleared ridge trail through the rain forest. The forest, suffused with mist and dripping with beards of moss, is also where most of Kilimanjaro animals are found.
Mandara hut 2,715m – Maundi Crater 3,000m
From Mandara Hut the trail passes through a short stretch of forest, skirts the base on the Maundi Crater and then emerges into a transition from rainforest to moorland. It is well worth the short detour to hike up the rim of the Maundi Crater for your first really impressive view of the Kibo Crater. On a clear day, Kibo will glimmer in the distance, showing off her majestic glaciers in the morning sun. Once you are in the open moorland you will get the chance to see some of Kilimanjaro's most spectacular plants including the endemic giant lobelia which grows up the 3m in height. After a 3-hour descent you will arrive at the gate you will sign your name in the register You will be met at the gate and driven back to Moshi where you can enjoy some much-needed rest.
Swimming with Turtles
In the north of Zanzibar, you can find one of the natural lagoon full of sea turtles. In Baraka Aquarium they are buying the turtles, caught by fishermen and they are releasing them back to the fresh ocean water in the lagoon.
Use the unique opportunity to swim with sea turtles.
During the visit you can also feed turtles with sea weed or just spend your time in the water. Also, you can take snorkelling mask to dive and watch them in their natural environment.
Total price $40 USD per person includes entrance to the Aquariumum &transport both ways.
Quad Bike Tour
Off road adventure will take you through some remote African villages, plantations, viewing baobabs and spice trees, across the fisherman's village and as a last stop the Waikiki Resort.
Quads are departing at 9h in the morning or 13h in the afternoon. Departure from hotel to the Quad Bike centre is at 8.30h/12.30h, transfer is included in price.
Guests will self drive their quad bikes for 4 hours. The price is per quad regardless if is ridden by 1 or 2 passengers. Your domestic driving licence is required.
Total price $130 USD per person includes one quad bike, transport both ways, soft drinks.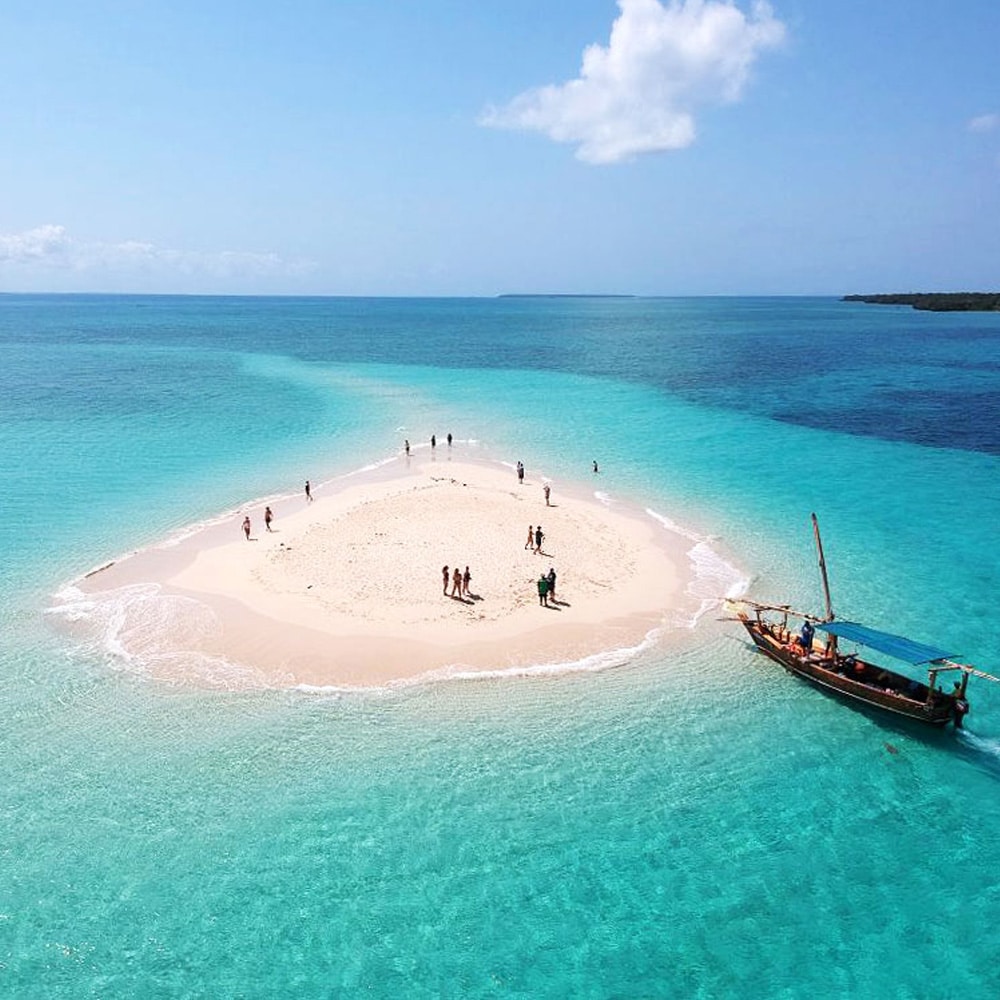 Safari Blue
Full Day Snorkelling Experience.
You will spend a magical day exploring the South of Island in Menai Bay Conservation area in a traditional wooden boat, called "dhow" with professional staff on the board.
Enjoy swimming & guided snorkelling in the beautiful pure clear waters, quality equipment provided.
Watch wild dolphins at play and take a swim in the hidden mangrove lagoon.
Feast on our delicious Swahili seafood barbecue on one of the island followed by gastronomic tropical fruit tasting.
Total price $125 per person includes the boat trip , private driver both ways, drinks and snacks throughout the day.
Jozani Forest
For those who would like to see Zanzibar from another look. We can offer you trip to the last Zanzibar big forest. This place is home for Zanzibar Red Colobus Monkeys and many other animals. The guide will take you on three different places in total. First you will be able to watch endemic Red Columbus Monkeys in their natural environment.
Monkeys are peaceful, kind and some of them also shy. You will be able to take as many as pictures you want.
The second spot is Mangrove tree lagoon, where the guide will explain you all the most interesting and the most important facts about these amazing trees, in terms of protection the coast of Zanzibar. The last part of this tour is visiting the big forest where the trees are so high that nearly touches the sky.
Total price $82USD per person includes Jozani forest entrance, guide and private transport both ways.
Horseback riding
A professionally managed stable yard with a qualified teaching and riding instructor. Riders of all levels can experience spectacular sunset beach rides as well as a beautiful scenic trail around and over the golf course to the beach.
Prophet, our pony, is perfect for younger children and makes a wonderful photo opportunity. Price $80 USD per person.
Snorkelling at Mnemba Atoll
Mnemba Atoll is one of the most popular tourist spot with pure clear water. This sea is home for the fish of many kinds and sizes. If you are lucky, you can also see dolphins in their natural environment.
Car will pick you up at the hotel in the morning and will take you to the beach where the captain with local wooden boat will wait for you and will take you for 20 minute ride to reach Mnemba Atoll. You can see nice coral ecosystem together with rich variety of fish.
$130 USD per person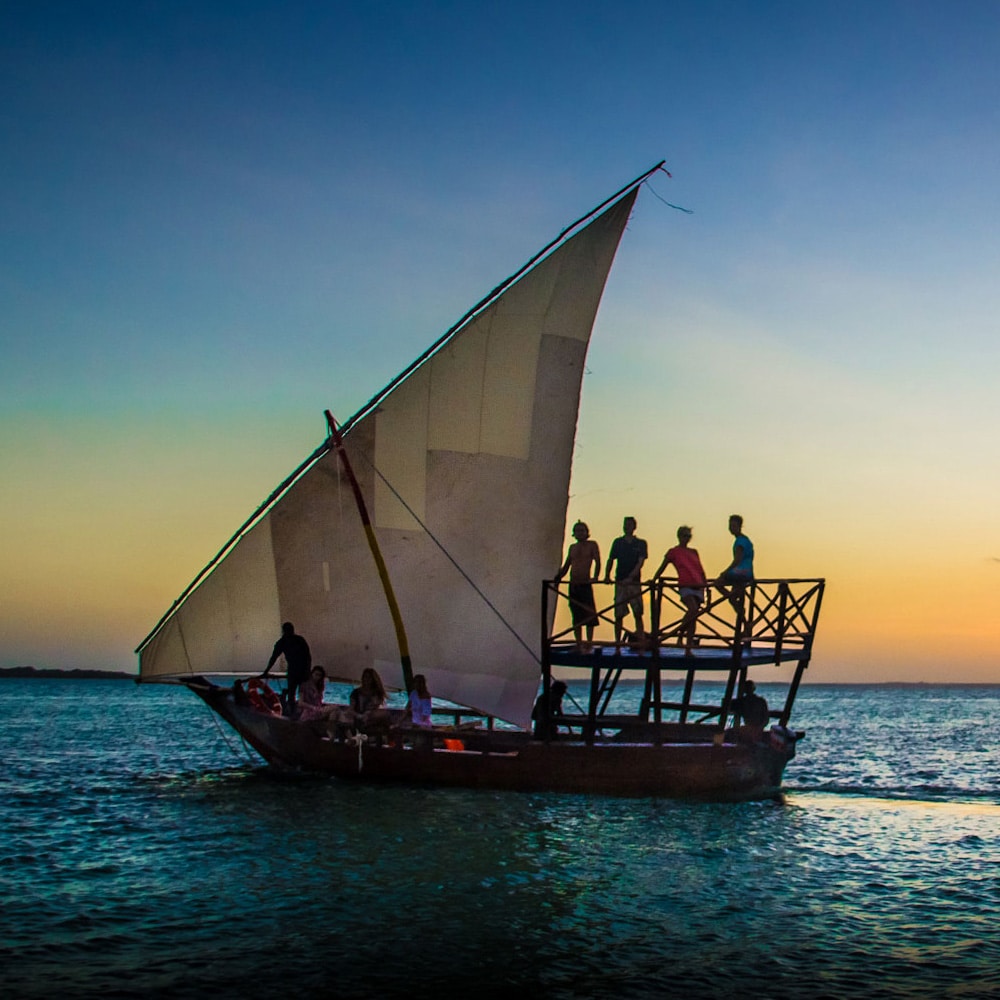 Dhow Sunset Cruise
This magnificent sailing trip of one and a half hours will start off the Stone Town water front. A spectacular voyage forging the East African maritime era will begin after putting on the sail. Whispering sound of waves, fabulous breezes pampering you with an exquisite traditional music.
Mouth watering snacks and assortment of cold drinks will be served as you view the stunning Stone Town water front. But the unforgettable moment comes when the golden colored ball pushes its way down and disappears gracefully.
$130 USD per person
Spice Tour
Spice Tour is one of the most popular excursions on the Island. Walk through the spice farm with your guide. Touch, smell and taste different spices and tropical fruits. Try to guess which is which, from the crushed leaves and the fruit.
In history, Zanzibar was known as a spice island, exporting cloves, vanilla, nutmeg and cardamom across the world. Nowadays the plantations are a tribute to the island's past, swapping spices for tourism, combining both in a spice tour.
$70 USD per person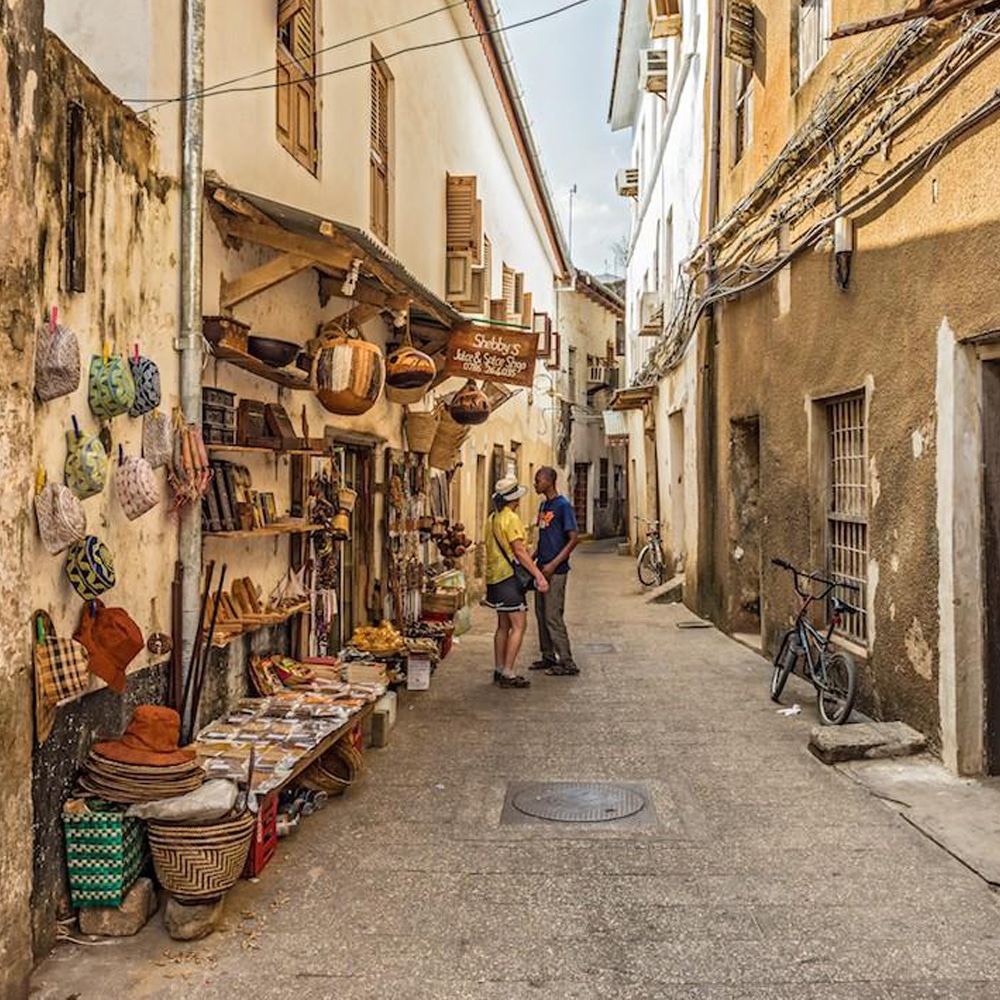 Stone Town
This atmospheric and mystical town is the cultural and historical heart of Zanzibar. It was constructed from coral stone during the 19th and 20th century. It was declared a World Heritage Site in 2000.
While you wonder around the city, your guide will take you on a historical and cultural journey through the old slave market, Darajani market place, the House of Wonders, the Old Fort and the Sultan's Palace.
It is a private tour so the guide will adjust the tour as per your interest.
$80 USD per person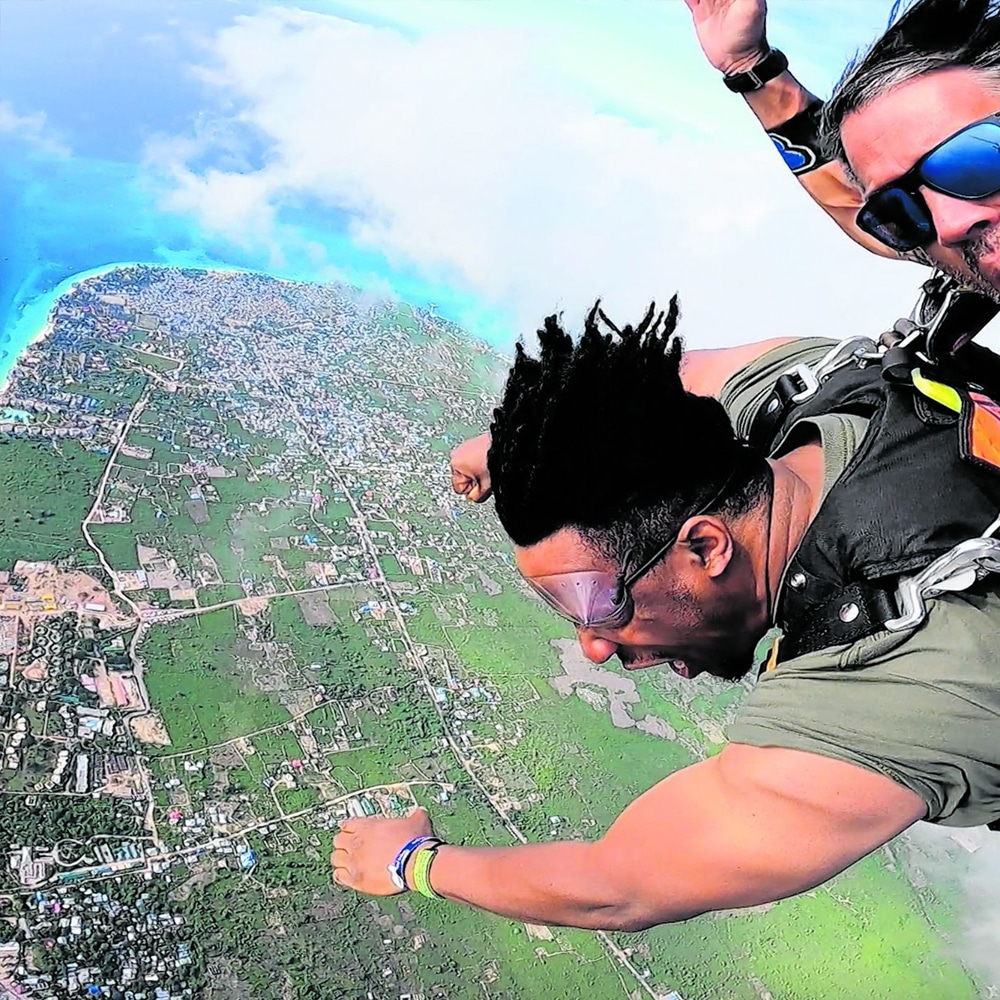 Skydiving
Specializing in providing skydives to First Time jumpers, Skydive Zanzibar can get you up in the air and enjoying free fall with only 30 minutes of training as you will be connected to a team with over 20 years knowledge, expertise and experience of providing skydiving in over 10 different countries.
Skydive Zanzibar located on Kendwa beach on the north part of the island will offer you once in a lifetime opportunity to land on one of the most beautiful beaches in Zanzibar.
Price is $400 USD per person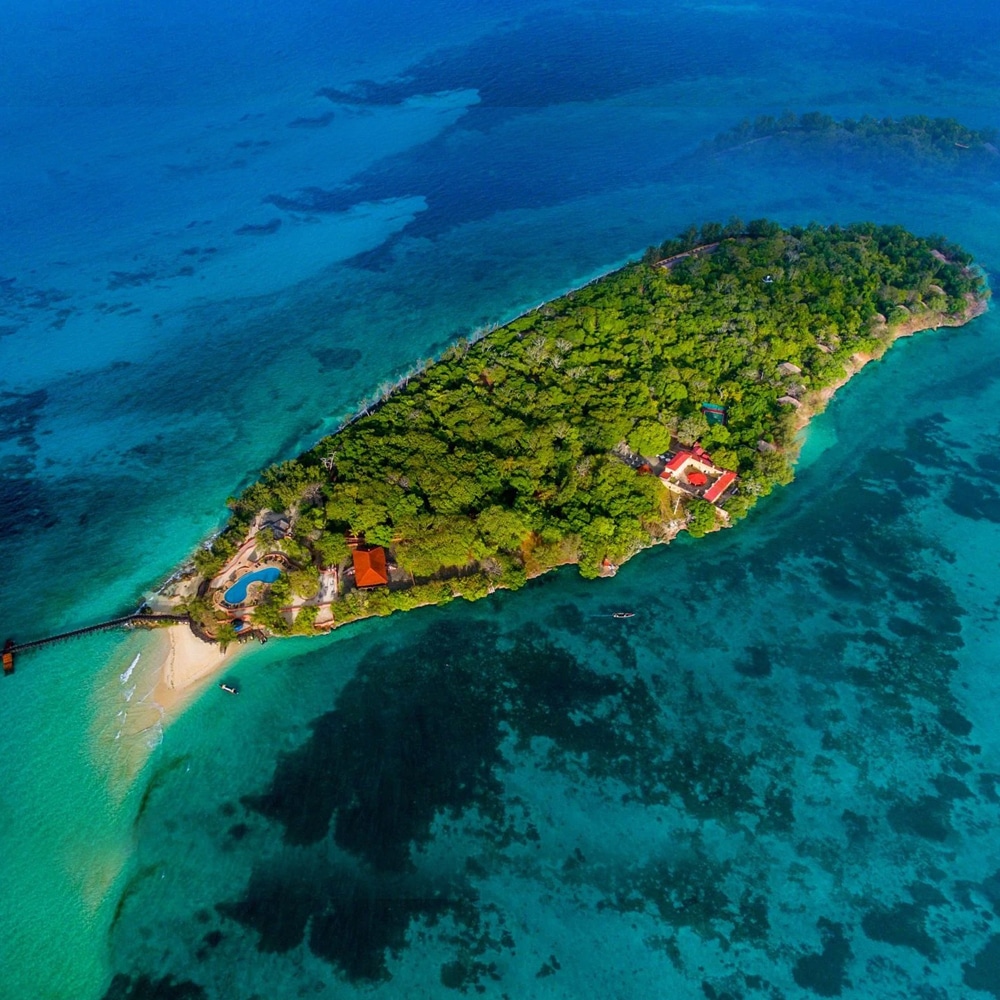 Prison Island
Use the opportunity to visit the tortoise sanctuary, which contains a colony of giant tortoise, located in the Prison Island, former place of violent prisoners from the mainland and sick people.
The average weight of tortoise is 200 kg, and many of them are said to be over 150 years old. There will be a chance to touch the tortoise and take photos. From Stone Town you will take 20 min ride on small wooden boat to get there.
$80USD per person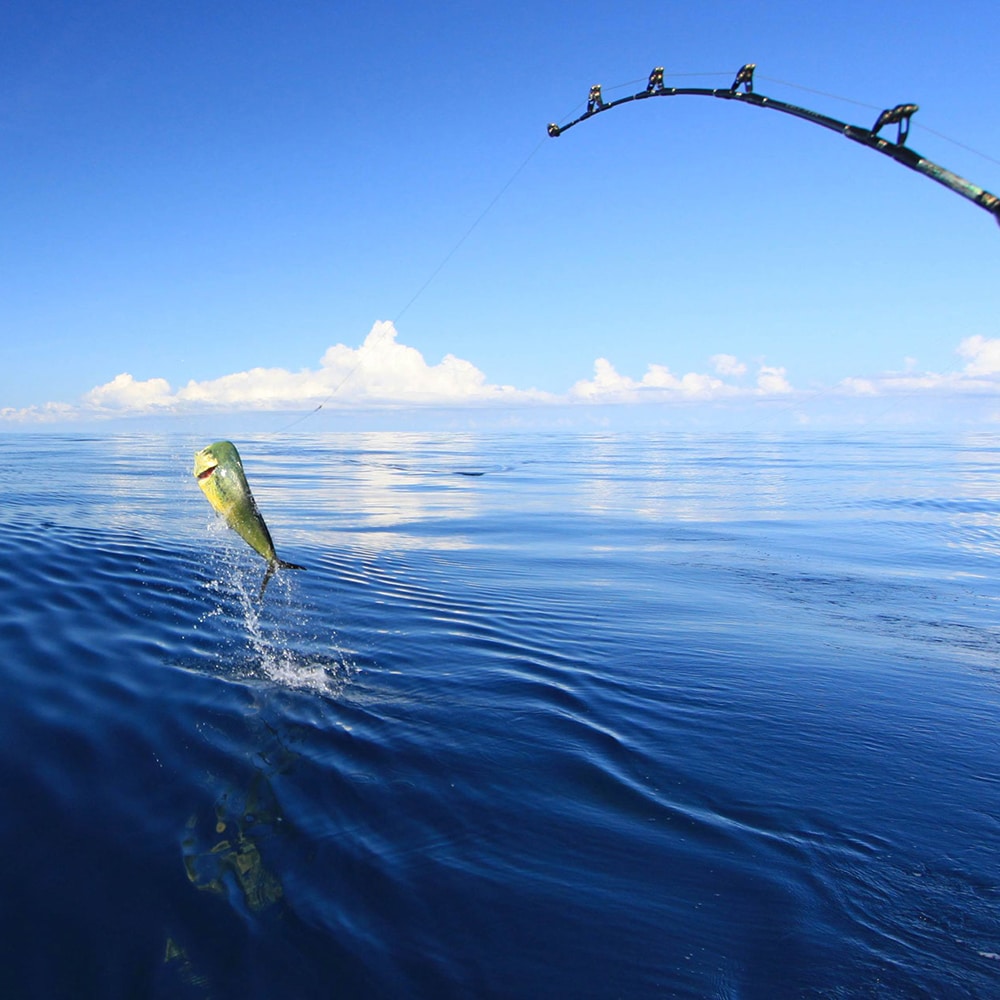 Deep Sea Fishing
Explore deep water around Zanzibar from the boat and enjoy fishing, sailing and relax on the board. This trip is great if you do not have troubles to spend a couple of hours on the open sea.
Deep sea experience is suitable for everyone, even if you are professional fisherman or you would like to try deep sea fishing for the first timeA full set of tackle is provided with Shimano, Fenwick, Hornell or KC rods and Shimano or Penn international reels spooled with 80 1b, 50 1b and 30 1b mono line. Our experienced skippers can instruct novices and talk fishermen through any procedure in the course of reeling in their catch. Tag and release is generally encouraged for all big fish unless it is the fisherman's first ever catch, his biggest to date, or if it is likely to be an East African or all Africa record. $150 USD per person